i don't do breakfast very well. i love food about as much as you can- and i love breakfast food. but nothing sounds good to me at 7:30 in the morning.
but i've found my new favorite breakfast. may it always be so.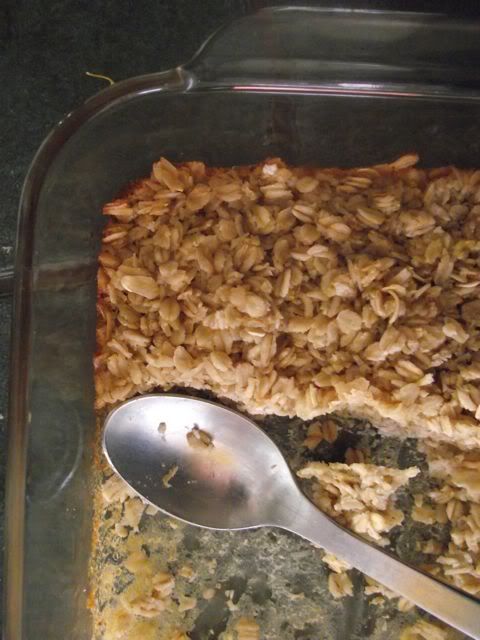 i stinkin love this stuff. baked oatmeal. all the nutty, fiber/protein filled yumminess of oatmeal without any of the nasty slime or 'glop' sound it makes as it hits your bowl. nope. none of it.
just fabulously nutty piece-y oatmeal with a few crispy edges. a little more protein- PLUS i can make a pan on monday, and reheat every day of the week with the same taste and awesomeness as Monday morning.
i told you--- love this stuff.
Baked Oatmeal
adapted from a recipe from a fabulous Aunt Barb. Aunt to my sister's friend Jamison. thank you for sharing!!!
2 T of sweetener (agave, maple syrup, honey, br. sugar, whatever you've got)
mix that all up and then add:
3 cups old fashioned oats
put it all in an 8x8 pan, bake for 30 minutes at 350. viola. breakfast is happy again.
*** i put dried cherries on mine with milk after it is all ready to go. you could certainly add what you like to the original dish: frozen blueberries, dried fruit, walnuts, flax seed, whatever you can imagine. go for it.
an old friend is staying with us for the weekend and so, as is now tradition it seems, someone is sick. my little sunshine girl is all fevery and clingy. but my windows are open, and we'll get out there one of these days. hope there is some kind of sunshine where you are today.