a favorite children's book around here is "Toot and Puddle; You Are my Sunshine."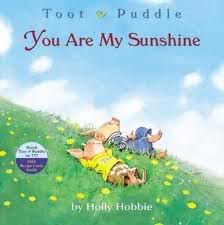 it may not actually be a favorite of my kid's, but it is a favorite of mine. for those of you who don't know this
delightful book
, it is about two friends (two pigs) who live together in Woodcock Pocket. one day, Toot wakes up moping. and the majority of the book is spent on Puddle's efforts to cheer him.
finally, there is a huge thunderstorm that arrives. Puddle stays safely inside while Toot splashes in the puddles. the next day, Toot is back to his old self. and Puddle remarks on his change of mood and says, "sometimes you need a big whopping thunderstorm to clear the air."
i can relate to this book.
now... i'm not saying i was all-out moping today. but... i was complaining. whining. unmotivated. funky. i woke up and looked with dread at the newly dirty breakfast dishes- could barely bring myself to put the same plate into the dishwasher that i put in yesterday.
and tonight. there was a thunderstorm. as i sat on our back step and felt the air change from heavy to clean, watched the rain move in, the wind-waves on the street, i felt my internal air clear.
i needed a big whopping thunderstorm. and one came.
i was wrong today. there was joy to be had that i missed.
but my loving Father is so very very kind to me. giving good gifts. even when i'm whining. and He gave me a thunderstorm tonight. when i really didn't deserve one.
He's so good to me.