This is what my sewing table looks like right now: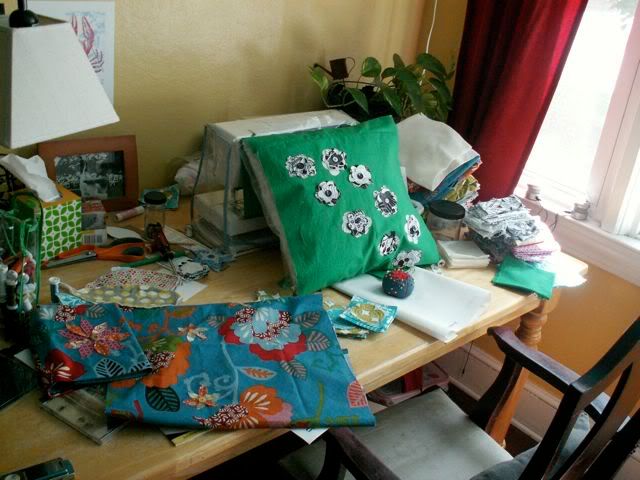 a bit of a mess. pretty bits here and there, but, to say the least, a mess. i was so grateful to jason for offering and giving me my own corner of our small living room for my crafting process. and i will continue to be grateful. cause it feels small right now. but it could be SOOOO much smaller.
So i've been diving in regularly and just attacking whatever fabric hits my fingers first. and it's been so nice. i love creating. such magic happens when you take several materials and bring them together to make something new. and i love fabric. added some flowers to this fabric for pillows: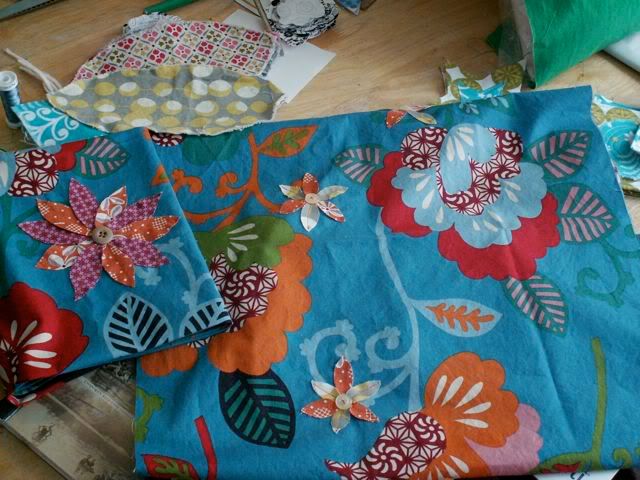 i'm in love with this fabric, people. i want to wear it. sleep under it. all of it. i'm in love.
this close to finishing this pillow:
and got to put those coasters 'away' today as they are finished (!). i'm hoping to make a couple more of those flower pillows with different backgrounds. blue and fuchsia.
but of course there is still the stack on the edge of the table.
the beckoning stack of beautiful fibers. i know you all know about juggling time, prioritizing your energy, etc. it is a struggle, isn't it? so much crowds the mind and the days. it's been hard for me lately to not succumb to the beckoning all the time. life is so fun. all the things God provides us to put our hands to-- just marvelous.